What Makes Our PMO Roadmap So Unique?
It's literally a Roadmap; with streets, landmarks, routes to follow, directions and even obstacles (to avoid)! We've spent decades working with customers and have taken all of this experience and created a creative, visual map to help you achieve Project and Portfolio Management (PPM) success. Our comprehensive Roadmap trains and coaches every role impacted by a PPM solution by keeping them focused on the short term priorities while preparing them for long term goals.
Our Approach
After decades of experience creating and improving PMOs and EPMOs, we've developed a hybrid approach that balances Lean/Agile's Minimum Viable Product (MVP) with the need for data to justify headcount and achieve strategic goals. Our approach focuses on what's necessary while keeping the overall goal in mind, and we've found that this balanced approach is effective for organizations of any size or type. We understand that change can take time, so we've developed a well-defined PMO Roadmap that takes this into account.
Who Benefits?
Normally everyone focuses on the Project Managers but how about we provide a few real-life benefits for other roles?
HR loves it when they get months of advanced notice about specific roles required. Less stress, better selection of candidates, better salaries, better contractor rates, better fit for the organization, earlier dialogue with the resource managers and plenty of time to prepare for onboarding.
Finance loves it when they can align the costs with the strategic plan of the organization, see projected monthly costs, actual costs, variances of costs, unexpected costs, potential costs and they really love it when HR has plenty of time to get the best salary and contractor rates (above). Finance loves reducing and sometimes even avoiding reconciliations each month.
Resource Managers (RM) love having visibility into their future projects, support activities, internal initiatives, training. RMs love not having to jump through hoops each year to justify keeping and adding resources. RMs love being able to do "What if" scenarios for when projects keep getting piled on and they can say "yes, we can do that…we'll either need xx number of people or these xx projects will need to get postponed by xx months".
Leadership loves having reliable data and status for their portfolios. Decision making is much easier when reports are automatically created and providing early warnings months in advance.
Team members love, love love being in fewer meetings, fewer status meetings and having to not worry about doing monthly estimate to completions for planned work. They don't always realize it but that means they're getting more work done with less distractions and busy work. The Entire Organization can appreciate that!
How Does it Work?
The PMO Roadmap is segmented into 6 unique towns with horizontal streets providing an incremental maturity and value benefit to the organization as they move up. Beginning at the first town (Demoland), vertical streets represent the foundational skills necessary for a successful Project and Portfolio management solution. The vertical streets continue vertically through each town incrementally improving with size and complexity.
Each town has routes with destinations to landmarks for demonstrations, deliverables and trainings; each providing value benefit for specific roles at the beginning and incrementally helping departments and the overall organization.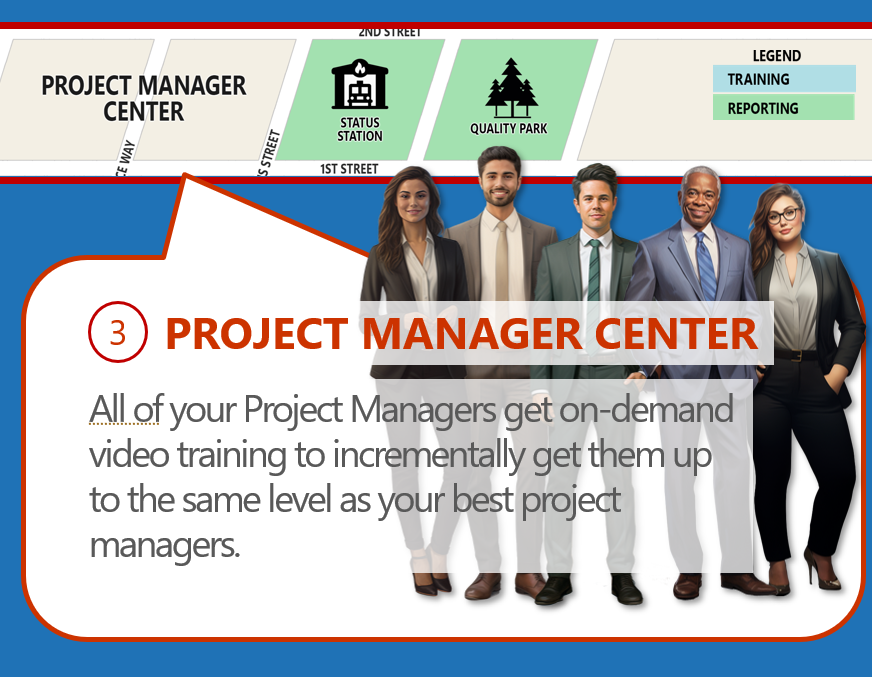 Just using this for format ideas. Will create one for each town
Our Roadmap provides simple directions for your organization from a demo of capabilities all the way through "What if" scenarios in Portfolio Management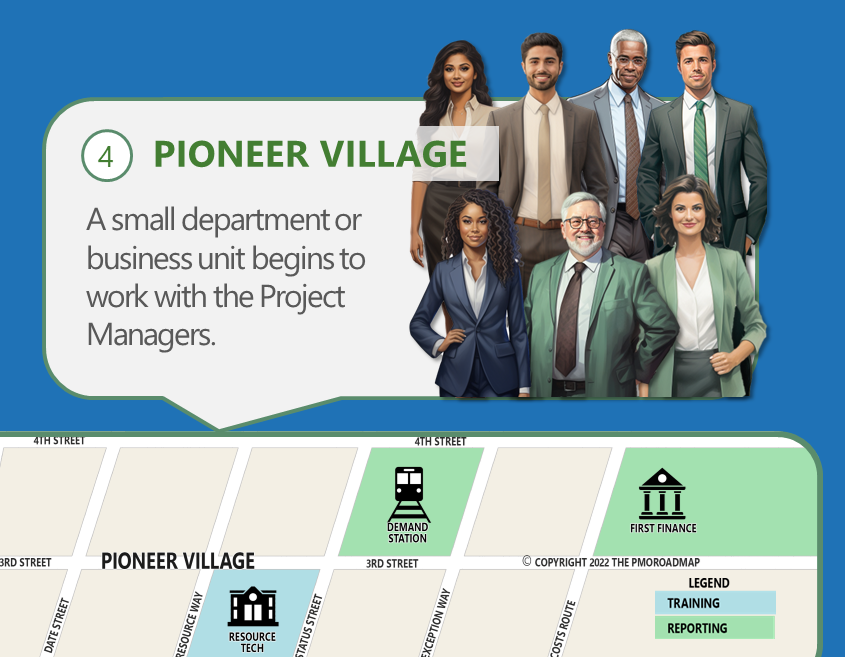 Blazing Fast (Just layout review)
Experience lightning-fast page load speeds for optimal user experience and SEO ranking.
SEO Optimized
Built with search engines in mind, achieve higher rankings and more traffic with optimized code.