Microsoft Project Desktop Training
Learn Microsoft Project from "The Guy" that wrote the book, not read it.
Unleash Your Project Management Potential—In Just ONE Week!
Are you tired of wasting time on YouTube tutorials that leave you more confused than when you started? Why not learn from Microsoft Project MVP? Dale Howard has been teaching for 25 years and authored and coauthored over 20 books! You're not learning from the guy that read the book, its THE GUY that wrote the book. Dale has designed this course to take you from zero to hero in Microsoft Project—in less than a week!

Why This Course is a Game-Changer
After teaching Microsoft Project over 20 years to every skill level possible, Dale has meticulously tailored this course to scale and flex with your learning needs. Learn at your speed, rewind when you're stuck, and accelerate when you're on fire. This isn't just a course; it's a transformational journey.

What's Inside: More Than Just Videos
69 Bite-Sized Videos: No fluff, just actionable lessons ranging from 3-7 minutes.
10 Power-Packed Modules: Each designed to level up your Microsoft Project skills.
15 Real-World Project Files: Learn the features that matter, straight from a seasoned expert.
Custom Ribbons & Shortcuts: Get your hands on my personal toolkit to supercharge your project scheduling.
Don't just take my word for it. Enroll now and experience the breakthrough you've been waiting for!
Are you Ready to Start?
Purchase your OnDemand course now and you'll be able to start in minutes. Individual Training is just $399

Or if you'd like to know more about the course, instructor or see samples, click below.

Course Materials
As a part of this course, each student will receive the following:
Hands On Exercises workbook in PDF format
Student sample files
Course Description
This "hands on" self-paced eLearning course teaches the foundational knowledge required to effectively manage "process agnostic" enterprise projects using Microsoft Project with either Project Online or Microsoft Project Server. Our "keep it simple" training approach allows students to master the vital skills they need to effectively plan and manage an enterprise project using Microsoft's PPM (Project Portfolio Management) tools.
Audience
This course is focused on the core needs of project managers, project schedulers, and project coordinators who use Microsoft Project with either Project Online or Microsoft Project Server to manage enterprise projects.
Course Pre-Requisites
Each student must have a copy of one of the following installed on his/her PC:
Project Online Professional for Office 365
Microsoft Project 2016 or higher
Versions of Microsoft Project earlier than the 2016 version do not qualify for this course.
Best Instructor Ever!
Dale Howard has been a Microsoft Project MVP (Most Valuable Professional) for 20 years in a row and is currently one of only 26 Project MVPs in the entire world. If you post a question about any of Microsoft's PPM tools on the public message boards, Dale is frequently the person who will answer your question.
Module 01: Microsoft Project Overview
Working with the User Interface
Understanding the Gantt Chart View
Understanding the Microsoft Project Data Model
Understanding and Using Views
Understanding and Using Tables
Understanding and Using Filters
Understanding and Using Groups
Project Navigation Tips
Module 02: Working with a New Project
Creating a New Project

Creating a New Project from a Template

Creating a New Project from a Personal Template

Working with the Standard Calendar

Add Holidays to the Standard Calendar

Copy Calendars to the Global.mpt File

Defining a New Project

Set the Project Start Date

Display the Project Summary Task

Set the Project and Nonworking Time Calendars
Module 03: Task Planning
Understanding Manually Scheduled vs. Auto Scheduled Tasks
Creating the Task List
Creating Summary Tasks
Creating Milestone Tasks
Entering Duration Estimates
Specifying Task Dependencies – Overview
Specifying Task Dependencies in a Real World Project
Applying Task Constraints
Applying Deadline Dates
Applying a Task Calendar
Using Cell Background Formatting to Highlight Tasks of Interest
Module 04: Resource Planning
Understanding Project Resource Types
Creating a Work Resource
Creating a Generic Resource
Editing a Work Resource
Creating a Material Resource
Creating Budget and Expense Cost Resources
Module 05: Assignment Planning
Assigning Resources to Tasks: Best Practices
Assigning Resources to Tasks Using the Task Entry View
Assigning Resources to Tasks Using the Assign Resources Dialog
Assigning Material Resources
Assigning Budget Cost and Expense Cost Resources
Module 06: Completing the Project Schedule
Performing a Quality Check on the Project Schedule
Saving and Backing Up a Baseline for the Project
Topical Outline: Execution Training
Module 07: Capturing Task Progress
Setting the Status Date for the Project
Manually Entering Task Progress
Module 08: Working with Task Updates
Rescheduling Incomplete Work from the Past
Module 09: Variance Analysis, Plan Revision, and Change Control
Analyzing Project Variance
Revising a Project Schedule
Adding New Tasks to a Project through Change Control
Updating the Project Baseline
Module 10: Project Reporting
Creating a Timeline View
Formatting the Timeline View
Exporting the Timeline View to Another Application
Viewing a Dashboard Report
Editing a Table in a Dashboard Report
Editing a Chart in a Dashboard Report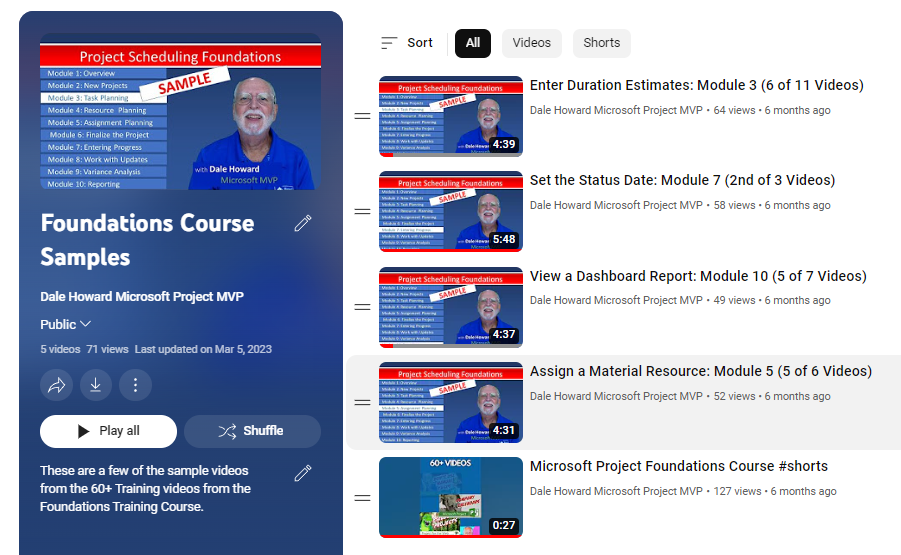 Want Group Discounts?
Contact Us for Discounts